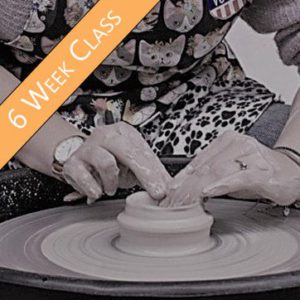 Our Beginner Wheel Thrown Pottery class is perfect for all people ages 14 and up who want to learn to play in the mud. Younger students must have already attended a youth pottery class and have been approved/invited by management to attend an adult class. This class is specifically geared towards people with little to no experience with clay. It can be re-taken until one feels ready to move up to Intermediate Wheel Thrown Pottery.
Beginner's Wheel Thrown Pottery is a progressive skill class that will teach you all the skills, tips and tricks you need to successfully create with clay. Our instructor, will provide you with the individualized attention you need to create your first pieces.
This is a six week class and you will attend your registered class each week unless a federal holiday causes a gap week. The class cost $185 and includes all material and firings. In addition to class time you will have access to the studio for the duration of your class to take advantage of Unlimited Open Studio time. This class takes place at our 1637 E St Louis St location.