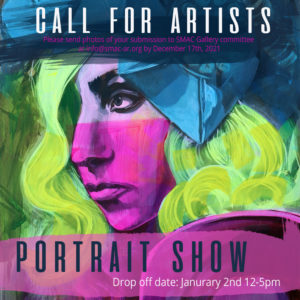 CALL FOR ARTISTS
Portrait Exhibit January 7-29, 2022
Submission Deadline: December 17, 2021
SMAC Art Center, 7 Downing Street, Hollister, 65672
Portraits are a long-standing genre of fine art: always evolving and changing in style and media. Southern Missouri Arts Connection (SMAC) seeks artworks that explores portraiture, from traditional to more extreme conceptual interpretations of the theme. In our contemporary world, portraits can be more than simply visual recognition and resemblance. There is no limit to the creative imaginings possible or to the extent of materials and media used to create artwork for this theme.
Exhibition Guidelines:
• Artists may send a photo (JPG only) of one piece of art to info@smac-art.org by December 17, 2021. (Photos may be used in promotional materials.)
Entry Details:
• Two-dimensional works must be ready to hang.
• Call is open to artists creating working in painting, drawing, printmaking, mixed media, collage, photography, digital art, ceramics and textiles and sculpture.
Important Dates:
• Entry deadline: JPGs must be emailed by December 17, 2021.
• Delivery date: January 2, 2022, between 12-5 p.m. to SMAC Art Center Gallery, 7 Downing Street, Hollister, Missouri 65672.
• Exhibition dates: January 7 – 29, 2022.
• Opening reception: January 7, 6-9 p.m.