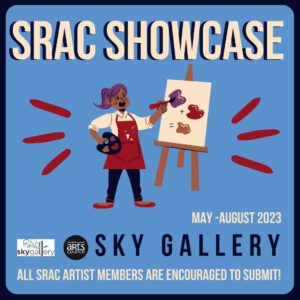 The Springfield Regional Arts Council and Springfield-Branson National Airport are now accepting submissions for their next Sky Gallery show: the "SRAC Showcase"! This juried exhibition will showcase art from the SRAC's talented Artist Members. All members are encouraged to submit!
Submission Process:
Submit up to 5 digital images (JPGs) of actual works you hope to have selected for the exhibition. Name each JPG with your first initial, last name, and piece title (example: JSmithTitle.jpg). Please include dimensions, media, frame type and size if applicable, and retail pricing (including 25% SRAC commission) in your email. Send all submissions to claire@springfieldarts.org by midnight, Friday, May 12th, 2023.
Work that has previously been displayed at Sky Gallery will not be accepted.
Artists will be selected by an anonymous jurying process. All submissions will be notified of acceptance or rejection by Saturday, May 20th. All participating artists are expected to drop off their work between 9am-12pm Friday, May 26th. For more information regarding the Sky Gallery, call Claire Utley at (417) 862-2787 or email her at claire@springfieldarts.org.
Artwork Restrictions:
Because of the nature of the exhibition space in which the show will take place, submissions must meet the following restrictions:
Artwork (including the dimension of the frame) should be at least 36" on one side.
All artworks must either be framed or on gallery wrapped canvas with painted edges.
Hanging the art requires that the piece be wired with D-Rings, attached at least one-third from the top of the frame. Sawtooth hangers will NOT be accepted.
Works must be two-dimensional (no three-dimensional work)
Artworks must weigh no more than 50lbs
Timeline:
Submissions Due: Friday, May 12, 2023 at Midnight
Notification of Acceptance: Saturday, May 20, 2023
Drop-off Accepted Artworks: Friday, May 26, 2023 between 9am-12pm
Pick-up Artworks: Friday, August 25, 2023 between 9am-12pm