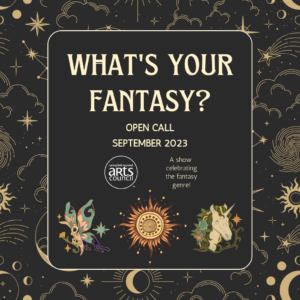 September 2023
What's Your Fantasy?
EXHIBITION DATES
September 1-28, 2023
Art Drop-Off
August 24 & 25, 2023
The genre of fantasy is full of impossible realities. From dragons and fairytales to superheroes with superpowers, this exhibition is a celebration of the imagination. Let your imagination take you to places unknown for the Springfield Regional Arts Council's September show, "What's Your Fantasy?"
"What's Your Fantasy?" is open to all artists, regardless of SRAC membership status. Artists can submit up to three pieces of art to be delivered on August 24 or 25 between the hours of 9 am and 5 pm to The Creamery Arts Center.
When planning to submit please keep in mind:
Artwork can be up to 48 inches in any direction.
All hanging pieces must be wired and ready to hang. No saw-tooth hangers will be accepted.
Artwork cannot weigh more than 50 lbs.
All work should be signed and labeled with the title of the work and the artist's name on the back of the piece for identification purposes.
Prices will be required at the time of drop-off.
For more information email Claire@springfieldarts.org or give us a call at the SRAC offices at (417) 862-2787.
"What's Your Fantasy?" will open for the public reception during First Friday Art Walk on September 1 from 5:00 pm-7:00 pm and will remain on display at The Creamery Arts Center throughout the month of September.
If you would like to be promoted on the Springfield Regional Arts Council's social media leading up to the exhibition, please send the below by Monday, August 28th to our Marketing Director Rachel@SpringfieldArts.org
Biography or Artist Statement
Headshot
Social Media Handles
Image of the piece if available